Modern solutions for modern constructions. The panels are built of horizontal elements.
Fencing system: wicket, double-leaf gate, segment
Dimension of the beaks: 80x80; 100x100 (wicket + gate)
Frame profiles: 40x40
Filling profiles: 80x20
Flat bar: 50x5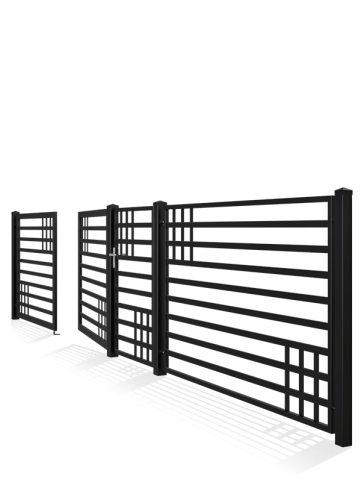 We produce Safe Home fences based on the highest quality materials and the latest technologies. Each element is protected with a layer of zinc, which is an excellent anti-corrosion protection. In addition, the steel element is powder-painted in the color selected. All of the above are confirmed by a 5-year warranty, which gives you not only the certainty of anti-corrosion protection, but also high-quality welds.
The indicator of security of any fence is undoubtedly a solid gate. You can choose between turn-out and sliding gates. The first solution is a guarantee of solid fastening, durable locking while maintaining the simplicity of use. The gate leaves open sideways. If you want to save space on the driveway, we recommend sliding gates that move along rails along the fence.
Individual designs adapted to the appearance of user's requirements and terrain. Knowledge and experience in the production of fences allows us to create a project that will fully meet your needs. Panels, gates and wickets can be attached to steel posts or masonry posts. Depending on the needs, the fence can also be mounted on the foundation.
After equipping the gate with the motor and connecting it to the control devices, it can become a part of the "Smart Home". The customer chooses the products, and we will refine all the automation elements in which they are to be equipped. Motors, transmitters and control units are part of the "All in One Control" product line. All in One Control means the freedom to control not only the gate, but also blinds, doors, alarms and even lighting. Reaching for products from the "All in One Control" product line, customers are assured of complete technological compliance.
Our products are made out of the components from reliable suppliers. Attention to every detail and the highest quality of the product - these are the goals that guide us in our everyday work. The accuracy with which our fences are made is a guarantee of quality and unchanged appearance for many years.