Provides additional thermal insulation. Intended for the construction of sliding doors and windows that can be embedded in brick walls, aluminium façades, and permanent window structures based on MB-59.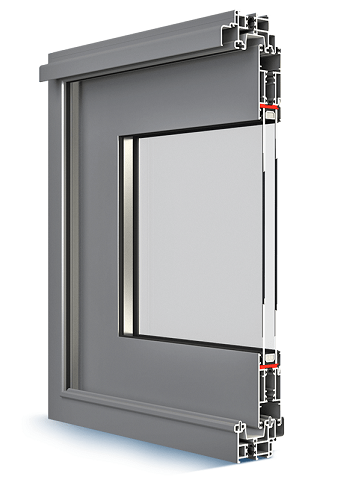 frame depth: 50 and 97 mm,
leaf depth: 37 mm,
glazing with glass packages (24 mm wide),
standard glazing package 4/16Ar/4th [Ug=1,1],
max. leaf weight: 160 kg
with a thermal break,
large leafs available: up to 2.6 m high and 1.8 m wide,
structures consisting of up to 6 leafs may be created,
duo-colour structures are available,
multiple possibilities – frame with two or three guiding rails available,
for individual and large structures,
Giesse and Sobineo Penta-Lock hardware types available.
*Standard of the day 16.04.2019. Requires technological confirmation.
Colours can emphasise the shape of aluminium joinery and provide it with individual character and genuine appearance.
All aluminium systems offered by our company are available in two colour palettes – RAL and DECORAL. We supply anodised windows and doors as well. Such a large selection enables you to choose perfect windows to match both the interior and the façade.
RAL
Basic colour palette. Profiles come in one of 213 smooth colours or in sand or metallic texture.
DECORAL
Woodgrain finish palette. Aluminium joinery offered by our company comes in the following colours: rustic oak, bog oak, ebony, dark sweet cherry, chestnut, beech, sweet cherry, golden oak, winchester, fir, mahogany, sapele, walnut, walnut vein, pine, cherry, wenge.
ANODISED ALUMINIUM
Anodised aluminium provides excellent properties (hardness and resistance to corrosion) and allows you to choose from among a wide variety of colours. The following colours of anodised elements are available: blasted silver, blasted gold, blasted inox, blasted champagne, blasted olive, blasted brown, blasted black, brushed anodised inox, brushed strong anodised inox.
MB-Slide sliding doors give you great design possibilities. Maximum leaf dimensions: 2.6 x 1.8 m. Available in two versions (two to six modules). Can be glazed with glass packages up to 24 mm wide. Using MB-Slide system guarantees maintaining good technical parameters. Thermal breaks provide appropriate insulation of aluminium profiles, while sliding gaskets, pane gaskets, and hopper gaskets made of EPDM enable you to achieve high air tightness.
Installation depth of leaf profiles is 37 mm, for frames: 50 mm (2-rail panes) and 97 mm (3-rail panes).
MB-Slide sliding doors move according to seven schemes.