A lift and slide door system that allows production of large glazing while maintaining good thermal parameters. A characteristic feature of the system is possibility of being equipped with a low threshold that allows use of "barrier-free construction" solutions, used in hospitals or other public facilities.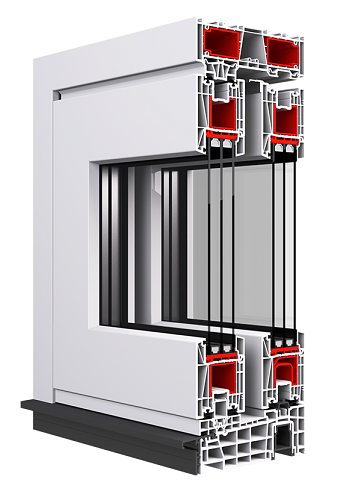 building depth 194 mm,

sash width 82 mm,

5 chambers (frame and sash),

glazing with packages up to 52 mm (3-pane package),

standard glazing package 4/16Ar/4one [Ug=1,0]*,


possibility of installing a low threshold,

seals placed in the middle part,

constructions up to 6 meters wide,

steel reinforcement,

very good statics,

possibility of veneering duo-colour.
*standard of the day 16.04.2019. Requires technological confirmation.
Doors built based on the evolutionDrive 82 system are characterised by unusually good thermal parameters. The width of 82 mm allows for the installation of wide, even packages with three glass panes.
The system is distinguished by the narrow width of profiles' construction, five-chamber construction and low seating, thanks to which rooms receive the maximum amount of external light.
The evolutionDrive 82 lift and slide door can be equipped with a high or low threshold. The second one provides extraordinary comfort of use, even for people using wheelchairs. To meet the highest demands on statics, a graded reinforcement concept was applied here.
evolutionDrive 82 can take any colour from the Salamander palette. Profiles can be veneered one side and both sides.
In the evolutionDrive 82 system, safety has been preserved at the highest level. To prevent any burglary, the door has been equipped with an additional bolt within the central seal, both in the fixed leaf and in the sliding leaf.
EvolutionDrive 82 doors are equipped with anti-burglary points and safety mechanisms, which at the same time allow to apply thresholds with a flat rail or renovation thresholds. Such solutions allow the construction of houses without barriers, while protecting against burglary.