A very convenient roller shutter system, which improves thermal and sound insulation across the windows while reducing energy consumption, especially in terms of winter heating. The access hatch position is configurable: in the front or bottom with the hatch swung open into the room, or an access hatch on the window exterior. Once the access hatch position has been decided, make the installation and trim finish that will make it easy to open the access hatch door. The optional roller insect blind can be installed on the inner side of the curtain to increase the convenience of use.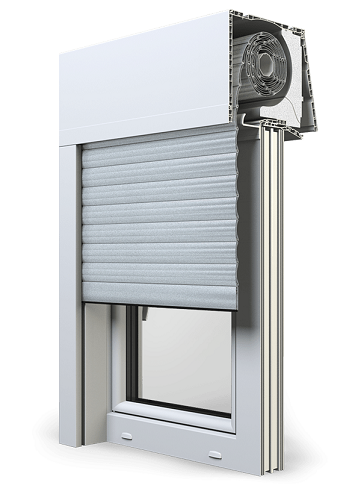 Shutter sections: Aluminium PU-foam filled sections;
height:

39 mm to 52 mm,

thickness: 9 mm to 13 mm
Box form: square
Box design: PVC, size: 220x175, 220x201, or 255x240
Curtain type: aluminium
Maximum window frame depth: 90 mm
Access hatch: 2 available: on the front and bottom, or on the window exterior
Guide rails: aluminium or PVC
Installation anchor bolts: yes
Weather-resistant: yes
Sound-proof: yes
Thermal insulation: yes
Drive: electric motor or manual gear or spring-loaded gear
Roller insect screen: optional accessory, installed on the outside of the curtain
Grey roller insect screens are available for installation on the inside of the roller shutter curtain. The installation kit includes double guide rails with brush seals for the curtain and insect screen. The roller insect screen bottom bar features a brush seal. When rolled up, the roller insect screen is concealed within the roller shutter box.
Can be integrated with Venetian blinds.
A special reinforcement bar is supplied for windows with a width above 1500 mm.
Max. box width: 4500 mm
Min. box width: 500 mm
The width and height of the integrated roller insect screen is restricted.