Folding door system MB-86 Fold Line is an ideal solution for the construction of terraces and extensive passageways between rooms. This system has extremely high technical parameters, making it easy to create structures with large dimensions.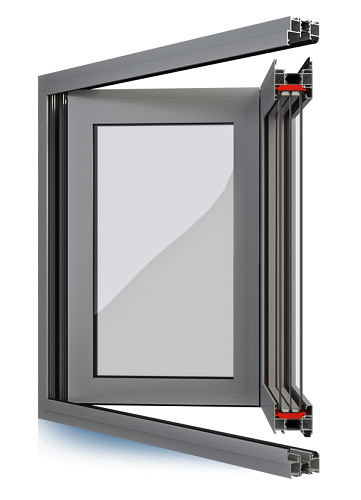 three-chamber system

construction depth 86 mm for door frames and 77 mm for door leaves

thermally insulated system

thermal breaks - width 24 mm for door frames and 34 mm for door leaves

max. weight of wings up to 100 kg

max. height of wings up to 2700 mm

max. width of wings up to 1000 mm

classical or low threshold

glazing from 14 to 61.5 mm

standard glazing package 4th/16Ar/4/16Ar/4th [Ug=0,6]*


compatibility with the MB-86 window and door system (joining profiles and some structural, gaskets and accessories common to both systems)
*Standard of the day 16.04.2019. Requires technological confirmation.
Colours can emphasise the shape of aluminium joinery and provide it with individual character and a genuine appearance.
All aluminium systems offered by our company are available in two colour palettes – RAL and DECORAL. We supply anodised windows and doors as well. Such a large selection enables you to choose perfect windows to match both the interior and the façade.
RAL
Basic colour palette. Profiles come in one of 213 smooth colours or in sand or metallic texture.
DECORAL
Woodgrain finish palette. The aluminium joinery offered by our company comes in the following colours: golden oak, walnut, mahogany, bog oak, beech, pine and cherry.
ANODISED ALUMINIUM
Anodised aluminium provides excellent properties (hardness and resistance to corrosion) and allows you to choose from among a wide variety of colours.
The following colours of anodised elements are available:
blasted silver,

blasted gold,

blasted gold,

blasted inox,

blasted champagne,

blasted olive,

blasted brown,

blasted black,

brushed anodised inox,

brushed strong anodised inox.
The MB-86 Fold Line system was designed to produce large, glazed surfaces in the type of harmonica. The main advantage of the system is almost complete liquidation of the barrier between the interior of the room and the open space. The doors can have any configuration of the wings and can be opened both outside and inside the building.
The wings move on rails, on which the whole mechanism is guided. The system is available in two variants: classic - with a gasket sealing or with a low threshold - a very convenient solution to use. Steel rollers ensure quick and easy operation of the door, and brushes in the running corners provide protection against getting pollutions into the corner.