Roller garage doors are a durable and economical solution, which will let you save space in your driveway and garage. We use only the best components for our roller garage door systems - you specify their dimnesions and we will make the perfect roller garage doors for you. Their structure enables fast and non-invasive installation. What is more, you can choose from a wide range of modern accessories including garage automatic options.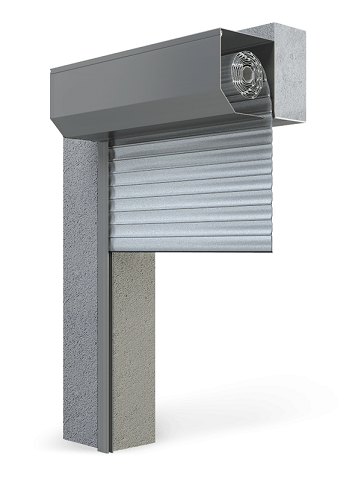 The structure of a roller garage door satisfies our customers' requirements. We offer doors with the maximum size up to 15 m2 of their curtains. A roller box is made of aluminium and is available in three different sizes. Optionally, ventilation holes and glazing panels can be incorporated into a curtain as well as the door lifting mechanism can be added in the two following options: manual (a crank handle, a tape or a rope string) or automatic (Somfy motors). The automatic option can be adjusted to the smart home system. See "Dedicated accessories" section to discover all the possibilities to upgrade your roller garage door.
Technical details of a curtain:
Width of slats: 77 mm

Thickness of slats: 18,5 mm

Maximum size of a curtain

– 15 m2

13 slats per 1m of height

Weight of a curtain: 4,8kg/1m2
The 3 available dimensions of a box:
height: 250mm, width: 250mm

height: 300mm, width: 350mm

height: 350mm, width: 350mm
Roller garage curtains are made of durable aluminium slats, which are available in a wide range of colours.
You can choose from the following curtains' colours: silver, white, grey, beige, dark wood, dark brown, brown, red, green, blue, cream white, fir green, black, anthracite grey, golden oak, mahogany and walnut.
We recommend to choose ventilation holes for your slats. Such slats are installed in the lower part of the curtain. It is a perfect solution that enables airing rooms without opening the door. Our slats with ventilation holes are available in the following colours: white, grey, beige, dark brown and brown.
We highly recommend slats with glazing panels to customers who would like to let more light into their garage interior. These slats are available in the following colours: white, grey, beige, dark brown and brown and they can also be powder-coated. Glazing panels are not only exceptionally functional, but they also become unique ornaments that add a more individual touch to the door.
Besides innovative components used in our doors provide safety and comfort for their users. The opening mechanism is equipped with a motor (with an option of emergency opening with the use of a crank handle), an inertial brake, a control box, an optical strip or a key securing for the emergency opening option.
Moreover, aluminium guide rails in which the curtain moves have been equipped with brush seals that improve the thermal insulation.
We offer a wide range of supplementary accessories that will improve fuctionality and enable users

to steer roller garage doors in a much easier way. We recommend two types of motors - direct ones (button switches) or radio ones (remote controls). In our offer you will also find a control box with an option of
connecting with security elements
such as photocells, optical edge protection and providing protection against lifting.