HS Brio is a concertina system. Doors made in this system are ideally suited as an entry to the terrace or balcony. Wooden concertinas are made on the basis of 68 and 76 Naturo profiles.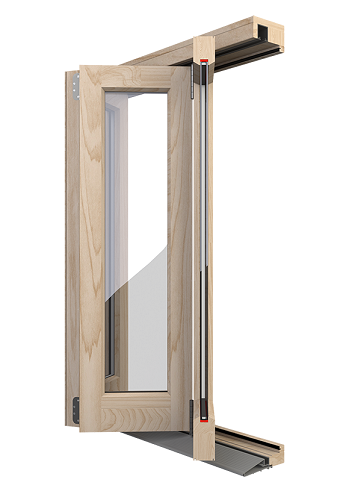 installation depth 150 mm

maximum wing weight - 200 kg

maximum dimensions of the wings - 1100 x 2500

maximum construction dimension 7000 x 2350

glazing with 24 mm - 36 mm packages

guides made of aluminum

the possibility of mounting on-window ventilator, on-frame ventilator

possibility of painting in a double-colour,

aluminum threshold - 52mm height

the possibility of using aluminum covers

square timber above 3000 mm - possibility of finger jointing
Variety of solutions:
scheme 4/4/0

scheme 4/3/1

the scheme depends on the number of wings **
** The possibility to make a larger construction and opening schemes. Requires reconciliation with the technology department.
For painting wood, water-borne, ecological TEKNOS paints were used.
Natural wood shades are available:
Pine,

old pine,

cypress,

iroko

oak,

calvados,

walnut,

Kempas,

chestnut,

Sipo,

Framire,

Sapelli,

afromozja,

cherry,

wenge,

acajou

selected range of Lazur and RAL palette
For our clients we also offer woodwork in a double-colour - a different color inside and outside the glass door.
The door frames are secured with 4 layers:
impregnant

,

primer,

interlayer

surface layer.
This treatment guarantees a distinctive and lasting colour for years.
To provide safety for you and your family the HS-Brio doors have been equipped with a range of security features:
Locking of opening parts of the windows:
3 or 5 points with an additional 2PZ lock

Hook, bolt and roller locks

Automatic locks
Locking of folding parts of the windows:
Using the surface flush bolts – locked