A very convenient and energy efficient roller shutter system that improves the thermal and sound insulation levels, especially when winter heating is considered. For added convenience are the options of installing a roller insect screen and the use of Type C façade blind inserts.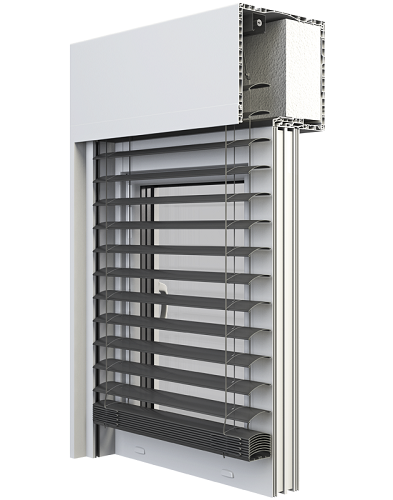 | | | | |
| --- | --- | --- | --- |
| Box shape | Box dimensions | Max. box width | Min. box width: |
| | | | |
| Square PVC | 240 x 255 mm | 5000 mm | 500 mm |

Lamella shapes



C80
C80F
---
Guide rails: aluminium or PVC,
Fastening bolts,
Weather-resistant,
Sound-proof (liner in the box),
Thermal insulation (liner in the box),
Roller insect screen: optional, installed on the curtain inner side.
Grey roller insect screens are available for installation on the inside of the roller shutter curtain. The installation kit comprises double guide rails with brush seals for the curtain and the insect screen. The roller insect screen bottom bar features a brush seal. When rolled up, the roller insect screen is concealed within the box. The width and height of the integrated roller insect screen is restricted.
A special reinforcement bar is supplied for windows of widths over 1,500 mm.
Blind overall height (w/box) [mm]
Elite XT
C80F
Powered
Handoperated
Access recess
230
3500
3750
+"5418"
270
4500
4750
Elite XT
C80
Powered
Handoperated
Access recess
230
1750
2000
+"5418"
270
2500
2750