A practical and attractive solution installed on the façade or in the window recesses. The blind's curtain texture is made of glass fibre and PVC, which provides indispensable protection of rooms against hot weather. The screen blinds offer great indoor comfort, especially in the summer. The screen blinds are also available with protection against insects and strong wind.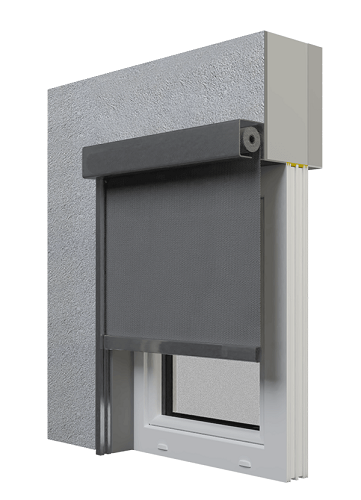 curtain: fabric made of fiberglass 42% PVC 58%
fabric made of:
Copaco Serge 600 - 5% translucency
Soltis Horizon 86 - 14% translucency
Soltis Harmony 88 – 8% translucency
Soltis Perform 92 – 4% translucency
Soltis Lounge 96 - 4% translucency
Soltis Master 99 – 3% translucency
Soltis Opaque B92 – 0% translucency (black out)
Cristal Trio 500 – transparent PVC film
shape of the cassette: square with rounded corners from the external side
cassette:
extruded aluminum 103 mm
aluminum concealed 131 mm (curved)
colouring: RAL palette
inspection hatch: 1 from the front or bottom (flush)
guides: steel, aluminum optionally with ZIP system
fire resistance class (European): C-s3, d0 - UNE-EN 13501-1: 2007
sound insulation (in the box): no
thermal insulation (in the box): no
drive: wired, radio RTS, radio IO
three systems to choose from:
Standard Screen,
ZIP Screen,
Screen cable.
Minimum width: 850 mm
Maximum width: 5000 mm
Resistance to wind: 3rd class of wind resistance - up to 49km / h
We offer three types of screen blinds.
One of them is the ZIP blind which, when covered, fully adheres to the guides and creates a tight barrier, not only against the sun, but also against insects. The fabric is placed in special, sealed guides. They work like a zipper.
The second variant is the STANDARD blind with typical guides. The choice really depends on the preferences of the customer, but how we see, the blind in the ZIP version is not only the role of a sunshade, but also mosquito net.
An interesting option is also a roller shutter system with a cable. Here, the fabric is fastened and run on steel, almost invisible vertical lines. No guides make the screens do not visually burden the façade. They give it a minimalist look.
In each of three systems, we can additionally use a flush-mounted cassette. Thanks to the use of a box in a concealed system (bent aluminum), we gain the possibility of completely enclosing the top cover. Service access to the blind takes place through the bottom of the box. The concealed cassette makes it possible to completely hide the roller box under the daub.