This roller shutter system enhances the thermal insulation and soundproofing performance while improving heating energy efficiency. The access hatch is installed on the front and its location is fixed. The complete installation trim perfectly conceals the roller shutter box from the outside. This makes the box a negligible obstruction to an aesthetic finish. This system can also be fitted with a roller insect blind on the roller shutter curtain exterior –– a very convenient upgrade for hot weather.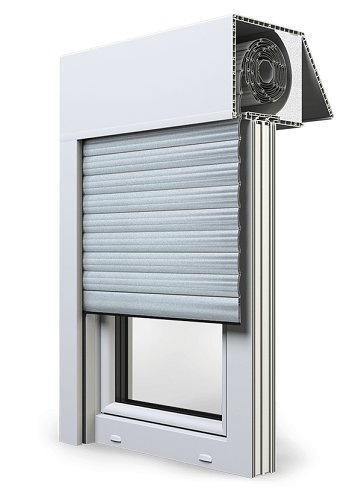 Shutter sections: Aluminium PU-foam filled sections or PVC sections; height: 37 mm to 52 mm,
Box form: square
Box design: PVC, size: 181x156, 206x181, or 245x220
with roller insect screen: 199x156, 224x181, or 263x220
Curtain type: aluminium or PVC
Access hatch: 1, in the front
Guide rails: aluminium or PVC
Installation anchor bolts: no
Weather-resistant: yes
Sound-proof: yes
Thermal insulation: yes
Drive: electric motor or manual gear
Roller insect screen: optional accessory, installed on the outside of the curtain
Cream white available for the length size of 155 cm and 180 cm.
Max. box width: 3000 mm
Min. box width: 500 mm
The width and height of the integrated roller insect screen is restricted.