Exclusive lift and slide doors, characterised by large dimensions and top thermal insulation properties. This innovative solution enables you to join leafs at 90 degrees without installing a permanent post in the corner. Enjoy a wide passageway without any obstructions.


R - Renovation
2-3 - number of tracks
frame depth – 174 mm (2 guiding rails), 271 mm (3 guiding rails),
leaf depth: 77 mm,
glazing with glass packages up to 58.5 mm width,
standard glazing package 4/16Ar/4th [Ug=1,1],
max. leaf weight: 400 kg
with a thermal break,
large leafs available: up to 3.2 m high and 3.3 m wide,
structures consisting of up to 6 leafs may be created,
frames available in two versions – with two and three guiding rails,
a low threshold can be installed,
rectangular glazing strips,
special shape of pane gaskets and hopper gaskets,
profiles can be used with manually and automatically latched hardware,
"HS-Master" drive can be used.
*Standard of the day 16.04.2019. Requires technological confirmation.
Colours can emphasise the shape of aluminium joinery and provide it with individual character and genuine appearance.
All aluminium systems offered by our company are available in two colour palettes – RAL and DECORAL. We supply anodised windows and doors as well. Such a large selection enables you to choose perfect windows to match both the interior and the façade.
RAL
Basic colour palette. Profiles come in one of 213 smooth colours or in sand or metallic texture.
DECORAL
Woodgrain finish palette. Aluminium joinery offered by our company comes in the following colours: rustic oak, bog oak, ebony, dark sweet cherry, chestnut, beech, sweet cherry, golden oak, winchester, fir, mahogany, sapele, walnut, walnut vein, pine, cherry, wenge.
ANODISED ALUMINIUM
Anodised aluminium provides excellent properties (hardness and resistance to corrosion) and allows you to choose from among a wide variety of colours. The following colours of anodised elements are available: blasted silver, blasted gold, blasted inox, blasted champagne, blasted olive, blasted brown, blasted black, brushed anodised inox, brushed strong anodised inox.
Glazed lift and slide doors enlarge the interior visually and fill it with natural light. Due to appropriate profile structure, MB-77 HS doors provide excellent thermal insulation and comfort of use.
One of several door arrangements can be selected. The frames are available in two versions – with two or three guiding rails. Durable and slim profiles enable you to create low-threshold doors: leaf weight up to 400 kg, height up to 3.2 m, and width up to 3.3 m.
The system is characterised by a closed shape of glazing strips. Anti-jemmy devices improve overall anti-burglary properties of the door. Permanent panels can be provided, with panes mounted directly in the frame.
MB-77 HS has some additional solutions that enable you to create very complicated structures. Apart from permanent glazing in the frame, you can replace the corner fastener or use a frame with three guiding rails.
MB-77HS sliding doors move according to one of seven schemes.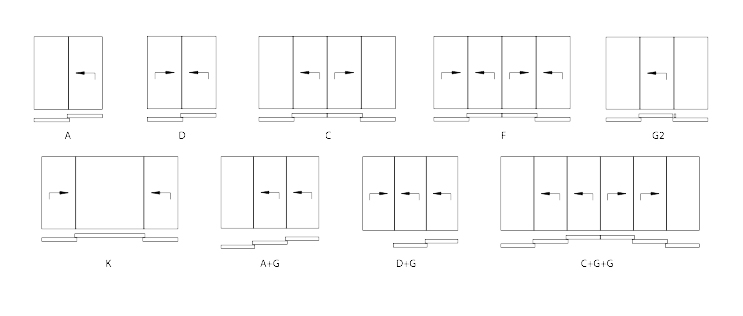 The aesthetic appearance of MB-77 HS lift and slide doors is guaranteed by a wide range of available colours (RAL and ANODA palette) and glazing strips, available in three versions: Standard, Prestige, and Style. If you are looking for unique solutions, we recommend duo-colour varnishing, two different colours on the inner and outer side of the profile. It allows you to match the door with any surrounding design.
One must not forget about an openable corner fastener when thinking about aesthetics. This is one of the possibilities provided by MB-77 HS. This solution enables you to enjoy a wide passageway without any obstructions. A low threshold can be installed to facilitate elderly people or people with disabilities to use the door.
We recommend installing mechanisms that facilitate the operation of the door – HS Master drive and a speed limiter.
A HS Master drive guarantees comfort of use. This drive unit is enclosed in the existing hardware, guaranteeing simple and effortless opening and closing of the sliding door. You can select the control method – switch, remote, double-sided handle, push-and-go. Intended for flats, private houses, hospitals, hotels, and public institutions. Meets the requirements of DIN 18025. Used in "Construction without Barriers". Tested and approved by DEKRA.
The speed limiter does not allow heavy leafs to move at high speeds, injuring users or damaging nearby objects and the building itself. It is a good idea, in particular if children or elderly persons use the door. When a large and heavy lift and slide element is opened or closed, the leaf starts moving faster. It speeds up and its kinetic energy increases, being difficult to reduce again. Installing a speed limiter is the best choice in such situations, guaranteeing comfort of use and safety for users.