A combination of popular designs with durability characteristic for aluminium. A customer can choose not only a design, but also the thickness, colour and type of a panel filling. AluLine collection provides almost limitless possibilities. Especially as customers can create their own unique design of the door and in this way give a building an individual look.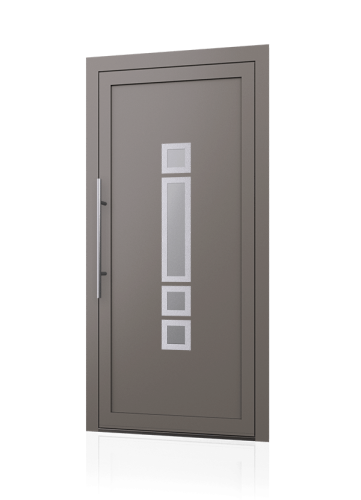 Modern design, the freedom to select accessories and a rich colour gamut all ensure that our doors form an original focal point for any home. The top quality materials used to manufacture them are also your guarantee of safety, practicality and long-term durability.
The ultra-robust profile system provides superior protection, where thanks to the choice of different elements we can easily achieve the highest class of burglary resistance. There is also the opportunity to complete our door installations with the latest solutions, such as numeric keypads or fingerprint readers.
Our doors can be equipped with lever or pull handles, depending on your needs. Something worth considering is a low threshold, as this makes life easier for anyone with disabilities or who is elderly and finds walking difficult.
We use high quality components to manufacture our doors, with a check at each stage to ensure their durability for many years to come.
Our doors feature improved resistance to mechanical damage and moisture. They have excellent thermal and acoustic properties by design, and it is worth reviewing our fillings for door panels.
We offer panels with two different types of filling: polyurethane foam and plywood, or extruded polystyrene XPS foam, each either 24 or 36 mm thick. We manufacture the panels using High Pressure Laminates (HPL) or aluminium sheets, depending on the preferences and technical requirements.
The doors we manufacture are delightful in their unusual appearance and excellent workmanship. We design doors for your satisfaction, and for no other reason.
We offer a range of models that fully meet the needs of the market.
The extensive number of patterns, as well as the abundance of accessories, adornments and colours, enable you to match them to the design theme present in other window and door elements, including the appearance of the whole home.
There are various ways available to finish our door panels. Their surfaces may be decorated with stainless steel elements or take the form of a spatial, grooved structure. We also offer stainless steel ornamenting aligned with the door panel surface. The extensive selection of finishes assures you that our doors perfectly match your innovative project or classic design.