Sliding doors provide the highest level of functionality and aesthetics. Recommended for single-family housing. The system is available in at least a few different versions and arrangements. Undoubtedly, the diversity of the structure and an aluminium threshold are essential advantages of the solution.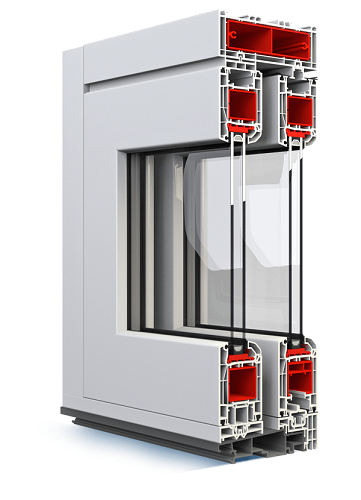 installation depth: 167 mm,
max. weight of the active leaf: 400 kg
number of guiding rails: 1 or 2,
max. leaf dimensions: 3 x 2.5 m
max. structure dimensions: 6500 x 2500 mm (white structures)*,
max. structure dimensions: 6500 x 2400 mm (coloured structures)*,
glazing with glass packages of 10 to 41 mm width,
standard glazing package 4/16Ar/4th [Ug=1,1]**,
aluminium guiding rails,
integrated gaskets system,
aluminium reinforcement, rectangular sections,
a pane-mounted ventilator can be installed,
a motor-driven bolt lock can be installed,
two anti-burglary bolts as standard,
threshold (48 mm high), can be completely concealed in the floor,
can be veneered on one side, two sides, and in a duo-colour formula.
*Larger structures can be produced. Contact the Technology Department for production availability.
**Standard of the day 16.04.2019. Requires technological confirmation.
HST 70 system lift and slide doors are characterised by great functionality and good insulation parameters, constituting an excellent solution for single-family housing. This type of doors may be an interesting alternative for traditional balcony or terrace doors.
Rigid profiles have been enforced with aluminium. This allows us to manufacture large structures up to 6.7 x 2.5 m. The leafs (up to 3 x 2.5 m each) move along one or two guiding rails. The guiding rails are made of aluminium.
The system gives you great design possibilities as it is available in several versions and arrangements of leafs and permanent elements. Such arrangements can be created thanks to hardware produced by G.U., a renowned German manufacturer. Even very large and heavy active leafs produced by G.U. move really smoothly. Durable running trucks, bolt locks, and handles enable significantly long service life of the system. Optimal anticorrosive protection of the hardware is provided by a special coating applied to all elements of the hardware.
HST 70 lift and slide doors move according to three schemes. What is more, a wide variety of system accessories enable you to combine them with other lift and slide doors and permanent glazing.
An aluminium threshold (48 mm high) can be completely concealed in the floor, improving the comfort of use.
Standard HST 70 lift and slide doors are manufactured using exceptionally safe hardware. Each door is equipped with two anti-burglary bolts.
If you wish to achieve particularly high anti-burglary protection, we recommend packages with improved safety class. Two packages are available - basic and extended. The basic package includes 3 anti-burglary bolts and an anti-drilling plate in the leaf. The extended package includes 3 anti-burglary bolts, an anti-drilling plate in the leaf, and anti-burglary protection devices in the leaf corners. Such HST door provides an effective barrier against burglars as they are not able to pry the window open or damage the hardware.
We use bolt locks that can be equipped with a lock cylinder (single sided from the inside or double sided).
In order to ensure the highest level of protection, we recommend using reed relays. These magnetic sensors are connected to the alarm system, triggering the alarm when the hardware moves.
HST sliding doors can be equipped with a variety of accessories so as to improve their safety, functionality, and aesthetics.
HS-Master drive guarantees exceptionally smooth operation, enabling the user to slide large structures effortlessly. The drive is quiet and can be used with PVC, aluminium, and wooden structures. You can control it using a switch on the wall, a remote controller, a push-and-go function activated by pushing the leaf, or the handle. Due to easy operation, HS-Master drive is recommended in particular for facilities intended for children, elderly persons, and persons with disabilities, such as hospitals, retirement homes, hotels, and nursery schools.
Ventilators ensure continuous flow of fresh air into the room. We recommend Renson pane-mounted ventilators in particular for sliding doors. They are mounted between the pane and the frame, reducing the glazing area.
If the door is equipped with a motor-driven bolt lock, access control devices become available, such as numeric keypad or a fingerprint scanner. These practical and safe solutions prevent unauthorised persons from opening the door.
Lift and slide doors can be operated with single-sided (on the inside) and two-sided handles. There are four broadening options available for HST 70 – 15, 35, 60, and 100 mm.
Insulating strips made of Purenit are optionally available. Purenit is manufactured by combining polyurethane foam with aluminium filings. Providing top insulation properties, it can be glued and joined with other materials despite its high resistance to chemicals. It is also resistant to high temperatures and cracking. It eliminates thermal bridges effectively.
HST 70 lift and slide doors move according to three schemes.
Scheme A: the system consists of two leafs, including one sliding leaf.
Scheme C: the system consists of four leafs, including two sliding leafs.
Scheme D: the system consists of two leafs, both sliding.