An alternative roller shutter solution that is easily serviceable from the front and from the bottom inside the room. This system enhances the thermal and sound insulation of the window all year round with great energy savings on heating in winter. Each roller curtain of this system can accommodate the optional roller insect screen on the inside of the curtain. The roller shutter box can be completely concealed from the outside for minimum aesthetic obstruction and an improved overall finish.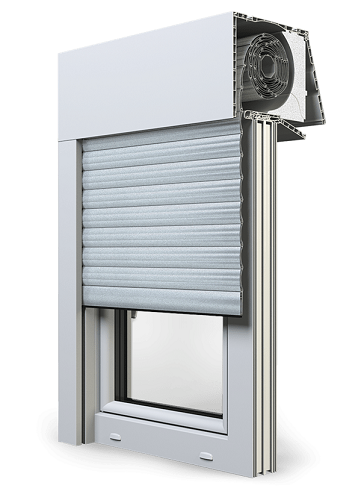 Shutter sections:
Aluminium PU-foam filled sections;

height: 39 mm to 52 mm,

thickness: 9 mm to 13 mm
Box form: square
Box design: PVC, size: 220x165, 220x185, 255x220
Curtain type: aluminium
Maximum window frame depth: 92 mm
Access hatch: 2, in the front and from the bottom
Guide rails: aluminium or PVC
Installation anchor bolts: yes
Weather-resistant: yes
Sound-proof: yes
Thermal insulation: yes
Drive: electric motor or manual gear
Roller insect screen: the inner side of the armor
Max. box width: 4500 mm
Min. box width: 500 mm
The width and height of the integrated roller insect screen is restricted.