Our elegant collection of Despiro doors is an attractive offer for the most demanding customers that value modernity in both technological and aesthetic aspects. The combination of beauty and durability in a single joinery product that cannot be missed.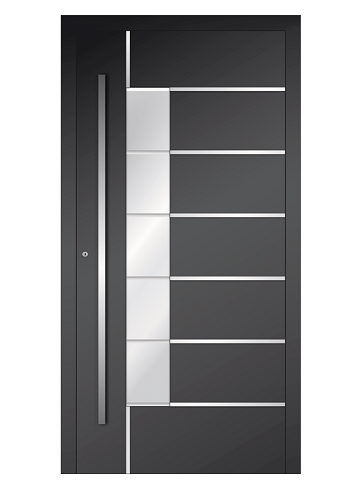 doors based on the MB-86 system,

the width – 77 mm – a flush frame and a panel sticked on a sash,

the structure maximum dimensions – 1,4 x 2,6 m,

4 variants of insulating aluminum profiles: ST, SI, SI+ and AERO,

a perfectly flat surface of the aluminum part,

2 types of bottom sealing,

in our standard versions: glazing made with the use of a 2-chamber glazed unit,

perfect thermal and acoustic insulation,

external elements covered with a layer of coatings with epoxy resins,

doors available in versions with or without a threshold,

optional sidelights,

a sash profile adjusted to be combined with fillings flush with a frame surface,

in our standard versions: Siegenia Axxent concealed fittings.
Despiro doors are available in a vast array of colours. One can choose from the following standard colours: white (RAL 9016), silver aluminum matt (RAL 9006), dark silver (RAL 9007), maroon matt (RAL 3004), anthracite matt (RAL 7016), metallic micro-structure (DB 703), grey and brown (RAL 8019). Optionally the doors are also available in colours from the whole RAL palette.
Moreover, we also offer doors in the following wood-like colous:
golden oak,

walnut,

mahogany,

sapele mahogany,

beech,

walnut vein,

pine,

fir,

gean,

cherry tree,

wenge

winchester.
The technology used for constructing Despiro aluminum doors allowed to obtain the effect of a unified surface. Here a sash was hidden behind decorative panels. We provide a wide range of panel designs - with glazings, stainless steel inlays or decorative millings.
As our standard we offer doors in the Exclusive version. The panels that are flush on both sides are 77 mm thick and demonstrate a very good thermal transmittance coefficient (Ud = 0,61 W/m2K).
Optionally we also provide Despiro doors in two different variants:
Basic
44 mm thick panels with an inset filling. The thermal transmittance coefficient Ud at the level of 0,9 W/m2K.
Classic
44 mm thick panels that flush on one side. The thermal transmittance coefficient Ud at the level of 0,9 W/m2K.
As the door external elements are covered with a layer of special coatings with epoxy resins, they do not require any additional maintenance. Doors in this line can be made in a system with or without a threshold and therefore adjust them to suit a user's needs. Furthermore, the doors can be equipped with fixed sidelights. This solution is especially recommended in case of dark rooms with access to natural light.
In our standard versions all Despiro doors are equipped with Siegenia Axxent concealed hinges, which add on subtle elegance and optical lightness to their structure. Despite the fact that hinges are completely invisible to the naked eye when a sash is closed, they are extremely durable (their load bearing capacity: up to 120 kg). Another advantage of this solution is a convenient 3D regulation.
Despiro doors can be equipped with fixed toplights and sidelights.
We recommend a few solutions.
In order to obtain a perfect composition of our doors we offer a wide array of accessories. An excellent supplement to doors are certainly door pulls. We offer door pulls made of high quality stainless steel available in many sizes and shapes.
To suit a customer's preferences, toplights and sidelights can be made with the use of translucent glass, glass with a motif or ornaments.
We offer ornaments in the most popular designs:
Master-Carre,

Master-Point,

Master-Ligne,

Chinchilla,

Satinato.
What is more, we recommend access control devices included in our offer. Optionally, Despiro doors can be equipped with a digital keypad, fingerprint reader, Bluetooth module or a code reader for magnetic cards.
A Bluetooth module enables to open doors with a mobile phone that has this function. A unit remembers data of even 6 mobile phones. Whereas an internal reader of cards enables to open doors with the use of a proximity card.
These solutions are practical and provide the highest security level. They are dedicated for installation in private and public buildings.