Aluminium window shutters


A perfect solution that combines durability of aluminium and a traditional design of window shutters. Adding them to windows and doors will let you create a unique look, guarantees effective protection and above all an increadible style of your entire house.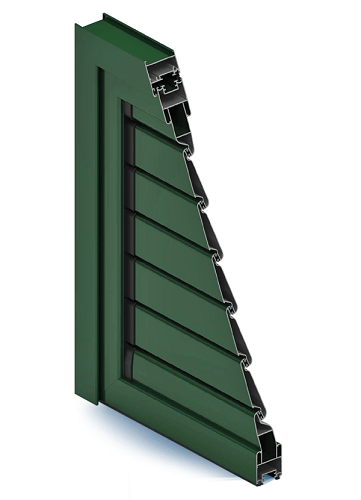 Every window shutter is made of the highest-quality aluminium that guarantees long-lasting durability and the best protection against the weather conditions since each panel consists of thick extruded frame constructed with aluminium louvres.
In our production process we use components of the reputable supplier - Spanish company Cortizo - whose components provide both proper stiffness and a light and lean structure.
There are three types of window shutters available:
side-hung

side-hung folding

sliding
Moreover, every window shutter in our offer is available with the following louvres:
movable with a possibility to regulate the amount of light and air

fixed laid downwards at an invariable angle.
Wind resistance (acc. PN-EN 13659:2006) – class 5.*
*the reference test on a double sash window 1,5x1,5m.
a maximum width (L) – 1600 mm,

a maximum height (H) – 2500 mm,

a sash maximum weight – 65 kg,

a window frame in cross-section – 47 mm,

a sash in cross-section – 40 mm.
Our window shutters are available in the following colours:
red (RAL 3004),

blue (RAL 5017),

green (RAL 6005),

anthracite (RAL 7016),

brown (8019),

silver metallic (RAL 9006),

white (RAL 9016).
Wood effect paint
Textured Chestnut
Cherry
Textured Cherry
Textured African Walnut
Walnut
Textured Walnut
Pine
Textured Pine
Oak
Textured Oak
Sapelly
Textured Sapelly
Mahogany