The combination of a Neopor®/Styropor® thermal insulator with tightly-fitting structural joints provides excellent protection against sunlight, wind and moisture. The additional bracing, including stiffening consoles embedded in the foam, window braces and revised and innovative fasteners, ensures a structure that remains permanently attached to the window and wall. It can be perfectly harmonized with any type of wall finish (render, WDVS, or clinker brick).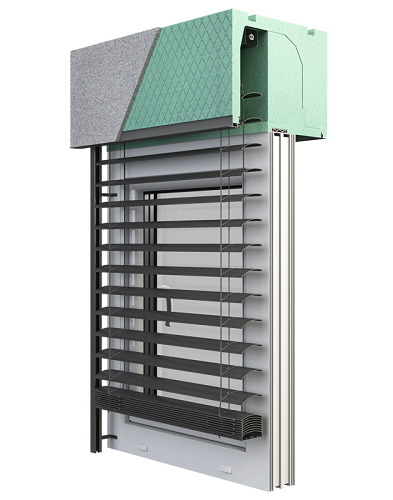 Box shape



Box size



Box max.
width



Box min.
width



Square Neopor®/Styropor®
300 x 280 mm


---

300 x 300 mm


---

300 x 365 mm
5000mm
500mm

Slat shape



C80
C80F
Z90
---
Guide rails: aluminium,
Installation anchor bolts,
Weather-resistant,
Sound-proof (liner in the box),
Thermal insulation (liner in the box).
Blind overall height (w/box) [mm]
RokaTop 2 Shadow
C80F
Powered
Handoperated
Access recess
265
4500
4750
RokaTop 2 Shadow
C80
Powered
Handoperated
Access recess
265
2500
2750
RokaTop 2 Shadow
Z90
Powered
Handoperated
Access recess
265
3000
3250