In small room where there is no space to install balcony windows with a leaf opening inwards, we recomment to install a sliding system as it will let us gain some space. One of the inexpensive systems on our offer is the Multi Slide system.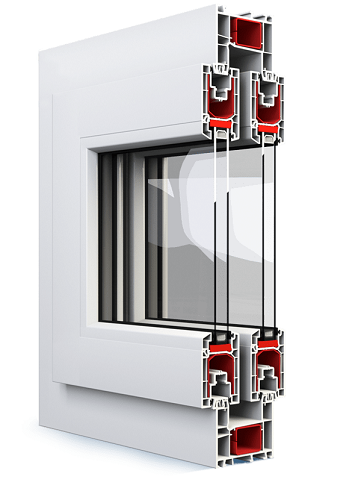 the frame depth – 80 (Aluplast colour palette), 96 mm or 170 mm (only veneered or the so-called mass cream colour that is creamy plastic),

glazed units from 4 to 33 mm in width,

the maximum weight of a glazed unit – 60 kg,

the maximum size of a glazed unit – 700 x 2300 mm or 1300 x 1950 mm,

the maximum size of the sliding door – 3200 x 2200 mm*,

standard glazing package 4/16Ar/4th [Ug=1,1]**,


the number of sliding tracks – 2 or 3,

possible duo-colour veneering,

a simple sliding function of the units,

brush gaskets used where a panel reaches a frame and between the panels.
*It is possible to construct bigger structures with a prior approval of the technological department.
**Standard of the day 16.04.2019. Requires technological confirmation.
Sliding doors based on the Multi Slide system are an optimal thermal protection guarateed by, among other things, glazed units up to 33 mm in width that are possible to apply in this system.
With the use of the Multi Slide system we can produce sliding door to the maximum size of 3200x2200 mm. In case of using a frame special profile that functions as an additional sliding track, we are able to make a multi-track structure. In this way we can obtain an effect similar to a folding door system where a few panels, after their opening, slide over one of the edge casements, providing one undivided opening and letting in the maximum amount of light possible.
Window leaves based on the Multi Slide system operate in two or three sliding tracks, which are equipped with high quality levelling washers for PVC systems, side cantilevers, a cantilever taking the load of the truck rolls. The components ensure performance of the truck for many years and prevent the system from being blocked.
The joinery products, especially sliding doors, are becoming a decorative element of a building. There are many ways to transform them into a unique decoration - for both a whole building and its interior. We have a few suggestions for our customers.
The most essential is choosing a colour and structure of a veneer. We provide a vast array of colours. Today technology enables to apply one-sided, two-sided and duo-colour veneers.
In order to make sliding doors warm, we recommend to equip them with two-chamber glazed units with a warm edge spacer. These two elements have a great impact on the thermal transmittance coefficient of the whole structure.
For the Multi Slide system we recommend three types of extensions - 35, 60 and 100 mm wide. We also offer external sills 105 and 150 mm wide.
In order to provide a constant air flow in rooms, we suggest to equip sliding doors with air vents. In this case we recommend Renson glazed-on air vents.
Users' safety when using the Multi Slide sliding door will be ensured by a handle with a key or two-sided handle with a lock that enables a convenient way of closing the door with a key from the inside and the outside.
Sliding doors based on the Multi Slide system can move in three schemes.
Scheme "A" – two panels, one of the panels is a sliding leaf.

Scheme "C" – four panels, two of the panels are sliding leaves.

Scheme "D" – two panels, both panels are sliding leaves.