A state of the art solution for doors and windows. MB-59 HS lift and slide doors can successfully substitute traditional balcony doors, providing great design possibilities and improving the overall appearance of the interior and the facade.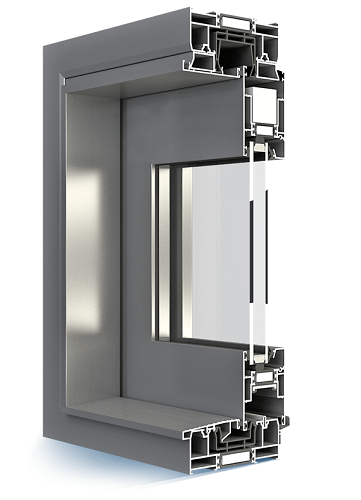 frame depth: 120 mm (2 guiding rails), 199 mm (3 guiding rails),
leaf depth: 59 mm,
standard glazing package 4/16Ar/4th [Ug=1,1],
glazing with glass packages up to 42 mm width,
max. leaf weight: 300 kg
three-chamber profile structure,
with a thermal separator,
large leafs available: up to 2.8 m high and 3.3 m wide,
structures consisting of up to 6 leafs may be created,
a low threshold can be installed,
permanent panels can be provided, with panes mounted directly in the frame,
for individual and large structures,
can be installed in most commercially available lift and slide hardware
*Standard of the day 16.04.2019. Requires technological confirmation.
Colours can emphasise the shape of aluminium joinery and provide it with individual character and genuine appearance.
All aluminium systems offered by our company are available in two colour palettes – RAL and DECORAL. We supply anodised windows and doors as well. Such a large selection enables you to choose perfect windows to match both the interior and the façade.
RAL
Basic colour palette. Profiles come in one of 213 smooth colours or in sand or metallic texture.
DECORAL
Woodgrain finish palette. Aluminium joinery offered by our company comes in the following colours: rustic oak, bog oak, ebony, dark sweet cherry, chestnut, beech, sweet cherry, golden oak, winchester, fir, mahogany, sapele, walnut, walnut vein, pine, cherry, wenge.
ANODISED ALUMINIUM
Anodised aluminium provides excellent properties (hardness and resistance to corrosion) and allows you to choose from among a wide variety of colours. The following colours of anodised elements are available: blasted silver, blasted gold, blasted inox, blasted champagne, blasted olive, blasted brown, blasted black, brushed anodised inox, brushed strong anodised inox
Lift and slide doors are becoming increasingly popular among those who have terraces and balconies – this is the latest trend in architecture. Traditional balcony windows are replaced with huge glazed structures.
MB-59 HS doors enable you to produce large leafs (up to 2.8 m high and 3.3 m wide). The profiles are remarkably durable, allowing you to create structures consisting of up to 6 leafs. Therefore, they can provide an effective combination of the interior with natural environment in the form of a comfortable passage to your balcony, terrace, or garden. Can be installed as an individual element or as a part of large structures such as mullion and transom systems. Permanent panels can be provided, with panes mounted directly in the frame (a good-looking and economical solution).
A low threshold can be installed to facilitate elderly people or people with disabilities to use the door. Profiles with two or three guiding rail are available.
MB-59HS sliding doors move according to one of seven schemes.

MB-59 HS profiles come in two structures of different thermal insulation properties: ST and HI. An insulating chamber with a thermal break constitutes the central part of the profiles, improving the overall appearance and thermal insulation parameters of the door. A wide range of glazing is an additional advantage since the user may choose glass with the most appropriate parameters.
Lift and slide doors provide and effective barrier against rain, at the same time preventing heat from escaping. The special shape of the gaskets and hardware that prevents the leaf from dropping onto the frame during the last closing stage ensure high resistance to water penetration.