This system is the perfect solution for the most demanding customers, given the sheer number of customisation options. The key advantages include an enhanced thermal insulation performance that comes from the thermal insulation layer within the roller shutter box and the optional frame thermal insulation with narrow guide rails made of extruded aluminium for the Mini and Maxi shutter sections. This system can be installed with an optional roller insect screen on request. Another benefit of this model is the optional extruded aluminium sheet box, which can be installed without any encasing trim and matched to the window colour frame.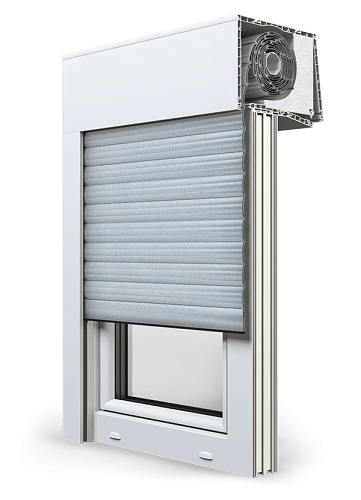 Shutter sections: Aluminium PU-foam filled sections or PVC sections; height: 39 mm to 52 mm, thickness: 9 mm to 13 mm
Box form: square
Box design: Neopor-insulated PVC, size: 230x170, 230x210, or 255x240
Curtain type: aluminium or PVC
Access hatch: 1, from the bottom
Guide rails: aluminium
Installation anchor bolts: yes
Weather-resistant: yes
Sound-proof: yes
Thermal insulation: yes
Drive: electric motor or manual gear
Roller insect screen: optional accessory, installed within the Moskito box
The wide trim section enables it to be installed on window frames with rail width of up to 102 mm and a bottom access hatch. The wide trim section is available in 9 colour options.