Window joinery built with the Naturo 88 profiles are recommended for energy-efficient buildings. The system profiles boast very good thermal insulating performance with optimized installation depths.


2 - gasket system
4 - layers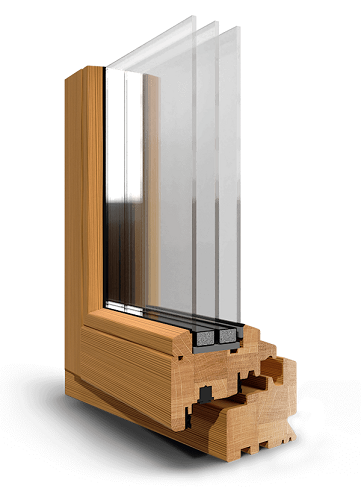 installation depth: 88 mm;
4-ply laminated wood;
48 mm IGU;
48 mm triple glazing units;
2-gasket system;
4-layer coating finish;
Available profiles:
Renovation ,
Monoblock,
Monoblock and Dutch profiles only downwards (French piece d'appui) each time we make a technical drawing.
Wood types:
Kalzing pine,
Solid pine,
Kalzing spruce,
Solid spruce,
Meranti,
Larch,
Oak.
The wood is finished with eco-friendly water-borne TEKNOS coats.
Natural wood colours are available:
Stone Pine,
Old Pine,
Cypress,
Iroko,
Oak,
Calvados,
Walnut,
Kempas,
Chestnut,
Sipo,
Framire,
Sapelli,
Gold Teak,
Cherry Tree,
Wenge,
Acajou,
and a selection of colours from the Lazur and RAL palettes.
The window joinery is also available in two-tone versions, with the outer colour differing from the inner colour.
The window frames are finished with 4 protective layers: sealant, primer, intermediate coat and topcoat. This ensures that the wood colour remains fast and clean for years.
The optional ornaments and available finish options help ensure that each Naturo 88 window blends seamlessly with all façade designs. The wooden profile system can be used for windows, sliding doors and PSK systems.
If you wish to retain the elegance and vintage style of classic wooden windows, choose muntins. Muntins provide windows with a unique touch.
Available muntins:
internal muntins;
bonded (non-duplex) muntins;
bonded Viennese muntin w/duplex;
structural muntins: 56 mm, 76 mm and 140 mm.
Depending on the Client's taste, interior and facade design we offer different types of glazing bead:
Soft - in standard,
Retro - optional.
The profiles can be used with anti-burglary glass, tempered glass, sun protection glass and ornamental glass.
Naturo 88 wooden windows guarantee the best thermal insulation on the market. This comes from the superior quality materials and processing of the product. Joinery products made with the Naturo 88 system are recommended for energy-efficient buildings. The products come with optimized installation depths. TPE (thermoplastic elastomer) seals provide very good resistance to weather conditions.
Accessories can significantly affect the functionality and aesthetics of joinery. We offer a wide range of accessories such as handles, pull handles, transom closers.
When aesthetics is an important factor, we recommend varnished window handles. Available in the colour of the window, they improve the overall appearance of the composition. VSG laminated safety glass ensures safety of use. Additionally, we recommend installing reed relays, essential components of the alarm system. Reed relays are magnetic sensors that trigger the alarm when the position of the circumferential hardware is changed, i.e. every time when somebody tries to open the window.
Ventilators improve the overall feeling of comfort in the room. MB-45 system joinery can be equipped with Renson pane-mounted ventilators.