PSK doors [Aluplast, EkoSun, Salamander]
PSK doors are an interesting alternative to balcony doors as they can be tilted and slid. Thanks to special guiding rails, the leaf does not open inwards, saving space in the room.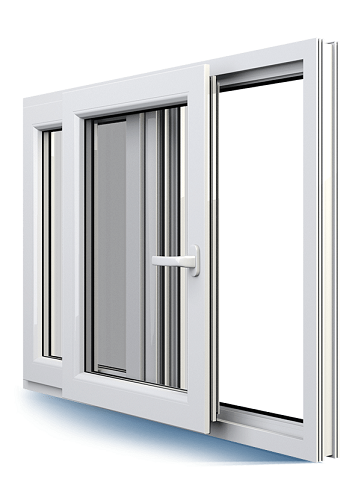 basic sliding door system,
more cost effective than HST systems,
with an additional device, the tilt can be adjusted with the handle,
standard microventilation in a corner of the active leaf,
corners are closed tight with the handle,
PSK doors are manufactured based on all PVC systems offered by our company,
max. weight of the active leaf: 200 kg
one active leaf and one passive leaf,
the active leaf is easily slid,
locked handles can be installed,
the PSK door leaf can be opened and tilted,
frame profile over the whole circumference.
PSK doors can be based on all window and door PVC profiles offered by our company: Ideal 4000, Ideal 5000, Ideal 8000, Streamline 76, BluEvolution 92, Eko Sun 70, Eko Sun 6 or Eko Sun 7.
Sliding the leaf is possible thanks to a special mechanism. When turning the handle to the open position, the door moves inwards, perpendicularly to the window plane, and then slides to the side.
PSK doors provide a great advantage as they enable you to go to your terrace freely while maintaining the functionality of the interior. They do not take up space in the room when open, allowing you to plan the interior as you wish.
PSK door is an interesting alternative to traditional double-leaf balcony doors and a favourably priced alternative to HST systems. An ergonomic design of the aluminium handle makes it easy to open and close the door with one hand. Running trucks enable you to switch from tilt to open (sliding) position and vice versa effortlessly. The structure consists of two panels: one is active, the other one glazed permanently.
When selecting a PSK door, please keep in mind its design restrictions. Maximum dimensions of a leaf are 1.6 x 2.4 m (terrace leaf) or 1.3 x 2.4 m (window leaf), while max. total width is 4 m (asymmetrical division) or 3.2 m (symmetrical). Glazing – depends on the configuration of a given window and door system.
Since they are based on standard PVC window and door systems, PSK doors come in any colour from Aluplast, Salamander, and Eko Sun palettes (depending on the system). The profiles are veneered on one side, two sides, or in a duo-colour formula. Doors in a chosen colour have an individual and aesthetic look since they can be easily matched with the façade and the interior.
Automatic hardware provided by GU, a renowned supplier, ensures comfort of use and guarantees smooth operation. It can be equipped with an additional device to adjust tilt with the handle. This solution is especially recommended for wide leafs as tilting may be slightly more difficult in such a case.
We recommend using ventilators so that appropriate air circulation in the interior is ensured. It is also a great idea to install an insulation spacer in the glass package. Made of complex insulating material, they improve insulation properties and reduce the risk of temporary condensation of water vapour. Moreover, they guarantee long-time air tightness of insulated glass panes and minimisation of heat loss by reducing the thermal bridge at the frame-pane joint.
Handles with a lock and an anti-drilling plate ensure your safety. The door can be connected to an alarm system, for example. Reed relays, i.e. magnetic movement sensors can be used as they trigger the alarm even when the door leaf is moved a tiny bit.
PSK doors may move according to one of two schemes. In the first one, the system consists of two leafs, including one sliding leaf.
The other system includes a moving post and leafs that open in opposite directions.