A model of wooden window Naturo is distinguished by the smallest depth of a window frame which is 68 mm. Thanks to the newest technologies applied to its production process, this product is characterised by high energy efficiency.
The window is available in three versions: standard, PLUS and ALU.
2 - gasket system
3 - layers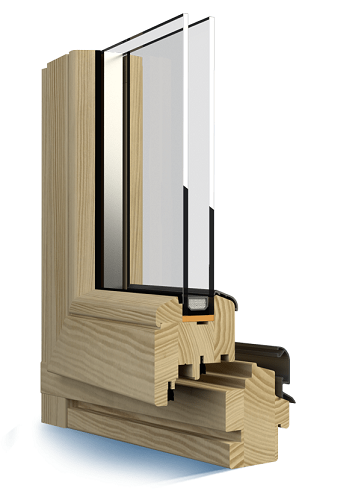 The standard option of double glazed unit 4/16/4ONE with the parameter Ug=1,0 is used in the window system Naturo 68. Optionally, it is possible to include a triple glazed unit 34mm in the system Naturo 68 PLUS. The best thermal parameters have been achieved due to the thermal frame and the two-seal system. The window profile is made from carefully selected wood. Three layers of wood are glued with alternately arranged growth rings and by using this method we have achieved the highest durability of the material. It is possible to equip a window with a RenoLine aluminium cladding in the model Naturo 68 ALU.
Depth of the entire window frame built in the wall:

68mm

A double glazed unit: 24mm

A two-gaskets system

3-layered plywood

A profil made of selected wood with alternately arranged growth rings

4 layers of paint coating

A 34 mm thick glazing – Naturo 68 Plus (optional)

A RenoLine aluminium cladding – Naturo 76 ALU (optional)
Water-thinnable ecological TEKNOS coatings have been used for painting the wood. Windows are available in natural wood hues: stone pine, old pine, cypress tree, iroko, oak, calvados, walnut, kempas, chestnut, sipo, framire, sapelli, afromosia, cherry tree, wenge, acajou and also selected colours from Lazur and RAL palettes. Optionally, we produce bicolour joinery elements - one colour on the interior side and the other on the exterior side of the window.
Additionally, our window frames are covered with 4 different coatings: a primer, an undercoat, an interlayer and a topcoat, which guarantee longlasting and vivid colour.
Ornaments and finish options based on the system Naturo 68 from our offer will satisfy the choosiest customers. Moreover, in this system you can order not only windows, but also sliding systems, rotary windows and PSK system.
We recommend muntins to those demanding customers that would like to preserve the elegance and style of timber windows thereby to enhance the unique character. In our offer you can choose from the following muntins: internal, stick-on (without the inside bar), Viennese muntin bars and structural ones: 56 mm, 76 mm and 140 mm.
To tailor our systems to customers' different tastes, interior designs and building facades, we also offer a choice of glazing beads: Classic, Soft or Retro.
Depending on your needs we can fill in the profiles with various glass: anti-burglary, tempered, sun protection and even ornamental.
Each window from the Naturo collection has two gaskets made in the TPE technology (thermoplastic elastomers), which are valued for their very good resistance to the weather conditions.
Hardware fittings of MACO Multi-Matic with a function of micro-ventilation and a deadlock.
The hardware versions in our offer:
Maco

Maco hidden hinges

UNITAS GU tilt fittings


Agas antique fittings
VENTS: In our offer you will find pressure ventilators or controlled by a humidity sensor: REGEL-Air, AERECO and BROOKVENT recommended for timber joinery products.
A wide range of handles and door pulls:
Secustic

Agas decorative handles

Aluminium handles with a key


Medos de Luxe door pulls
Water drips with the increased durability and an aesthetic finish are available in 3 versions: aluminium, aluminium with a wooden cover and wooden - a Belgium A and B profil.
Warm edges are on offer in one of the six toned colours that match a window frame colours:
7035 light grey

7040 grey

9005 black

8003 light brown

8016 brown


9016 white
Our window accessories are available in many styles and colours that match perfectly window frames:
Decorative transoms

Decorative beads

Meeting rails

Wooden water drips


Wooden sills are available in the same colours and wood types as our windows