A very special roller shutter system with a rounded-off box made of high-grade aluminium sheets. The special PU-PA coat finish provides extreme scratch and weather resistance. Specifically recommended for building façade wall installation because of the oval form of the box and outstanding durability.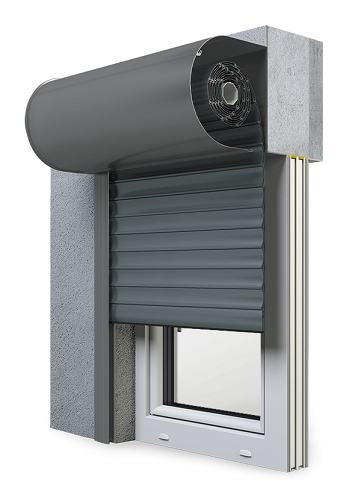 Shutter sections: Aluminium PU-foam filled sections, plastic sections, or extruded sections; height: 39 mm to 52 mm, thickness: 9 mm to 13 mm
Box form: round
Box design: aluminium sheet, size: 137x137, 150x150, 165x165, 180x180, or 205x205
with roller insect screen: 165x165, 180x180, or 205x205
Curtain type:
Access hatch: 1, on the window outside
Guide rails: aluminium
Installation anchor bolts: no
Weather-resistant: yes
Sound-proof: no
Thermal insulation: no
Drive: electric motor or manual gear
Roller insect screen: optional
Max. box width: 4500 mm
Min. box width: 500 mm
The width and height of the integrated roller insect screen is restricted.