EkoSun HST is an incredible convenience and the ability to create spacious, glazed structures. The low profile guarantees an adequate supply of light, and at the same time ensures waterproofness at the highest level. Thanks to the low threshold, the EkoSun HST system enables the creation of barrier-free architecture.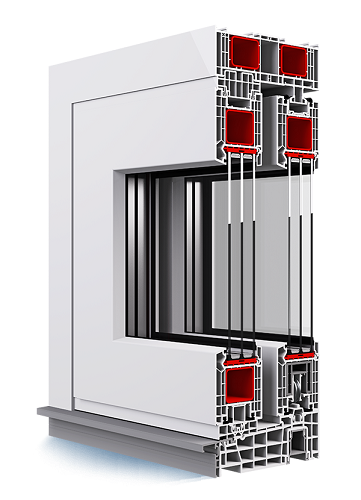 100 mm sash profile,
maximum load capacity of the wing 400 kg,
maximum construction height 2.85 m,
rail height 13 mm,
wide range of veneers,
possibility to use energy-saving glazing package up to 54 mm.
When creating the EkoSun HST system, we tried to make this product stand out from the others available on the market. EkoSun HST is a low profile, which provides better lit of the interior and improves its appearance.
The unique design of the EkoSun HST threshold and new special designed gaskets guarantee tightness. The EkoSun HST system is characterized by very good static properties.
Thanks to the very high stiffness, you can create wings up to a height of 2.6 m. This system also allows load capacity up to 400 kg, thanks to which you can mount the warmest glazing packages.
EkoSun HST – lift and slide balcony door is a product that requires excellent technical and technological knowledge. HST balcony doors, is a system designed primarily for investors who have specific expectations. They require high quality products, in order to receive a building that is completely compatible with their expectations and wishes.
EkoSun HST allows the use of the widest and warmest glass packages (up to 54 mm), which makes windows made in this system have great thermal parameters. Larger glass surfaces and a lower PVC profile improve the thermal properties.
EkoSun HST door can be made in scheme A. Door are made of two sashes, one of which is a sliding sash.